Saudi Arabia/Korea
To enhance startup support and investment cooperation, South Korea and Saudi Arabia have announced the creation of a joint fund worth $160 million (approximately 208.4 billion won). The establishment of this fund is a follow-up measure to the "MOU for Investment Cooperation and Startup Support between South Korea and Saudi Arabia," which was signed during a visit by Crown Prince Bin Salman of Saudi Arabia to Korea in November of the previous year.
The signing ceremony took place at the Crown Plaza Hotel in Riyadh, Saudi Arabia. Minister Lee Young attended it from the Ministry of SMEs and Startups and Yousef Al Benyan, Chairman of the Board of Directors of Saudi Small and Medium Business Bank. The joint fund was established by investing $10 million (13 billion won) in an existing fund worth $150 million (195.4 billion won), in which Saudi Arabia is a major investor. An additional $160 million (208.4 billion won) was raised, with participation from Saudi Venture Investment (SVC) and Saudi National Wealth Fund (PIF Jada).
The two countries agreed to make mandatory investments of at least 10 million dollars in Korean companies through a joint fund. Minister Lee said,
Under the agreement, the two countries have committed to making mandatory investments of at least $10 million in Korean companies through the joint fund. Minister Lee expressed optimism stating, "With the establishment of the Korea-Saudi Arabia joint fund as an opportunity, we will actively support Korean ventures and startups not only to attract investment but also to advance into Saudi Arabia. We will strive to become a key player in the Middle East."
This joint agreement comes after a series of efforts by Minister Lee, including visits to the Davos Forum and Saudi Arabia earlier this year, where he cultivated close cooperative ties with Saudi government officials, including the Minister of Investment.
The joint fund aims to strengthen bilateral economic ties and create new opportunities for startups and entrepreneurs from both countries. Since President Yoon Seok-yeol assumed office, South Korea and Saudi Arabia have witnessed increased cooperation in various fields, including signing 26 investment contracts and memoranda of understanding through bilateral summits, fostering active exchanges in the realms of economy and culture.
Minister attends Riyadh Global Business Center for collaborations
Meanwhile, Minister Lee Young held a signboard-hanging ceremony at the Riyadh Front startup hub in Saudi Arabia. The ceremony marked the establishment of the Riyadh Global Business Center (GBC), a collaborative platform aimed at supporting the entry and settlement of small and medium-sized venture companies in Saudi Arabia. The GBC serves as a bridgehead connecting the innovation ecosystems of both countries and promotes networking opportunities with local companies and investors.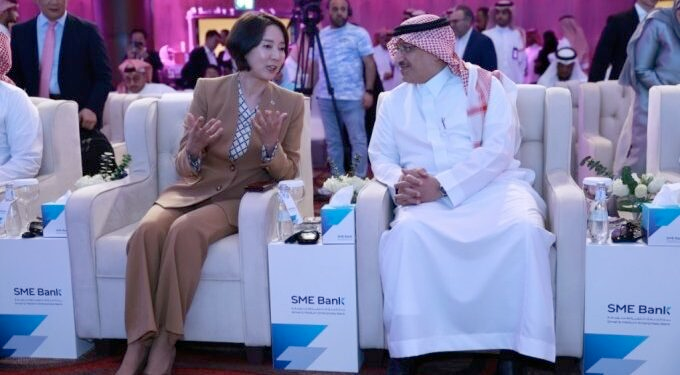 A business agreement was signed to ensure the smooth operation of the GBC, with the Ministry of SMEs and Startups supporting technology-based startups' entry into Saudi Arabia and the Ministry of Investment of Saudi Arabia simplifying business registration procedures. In addition, a smart farm company, Dream Farm Co., Ltd., signed a business agreement to attract a $120 million investment for building a smart farm facility in Saudi Arabia. Minister Lee Young expressed optimism about the future exchanges and cooperation between the two countries, emphasizing the potential for expanded participation in the project.
Source: Koreatechdesk