Kuwait
National Bank of Kuwait (NBK) organized a visit to Mohammad Al Shayji Elementary School as part of the executive management's tour to follow up on the pilot phase of "Bankee" financial literacy program for government and private school students, which was launched in collaboration with the Ministry of Education and Kuwait Anti-Corruption Authority "Nazaha".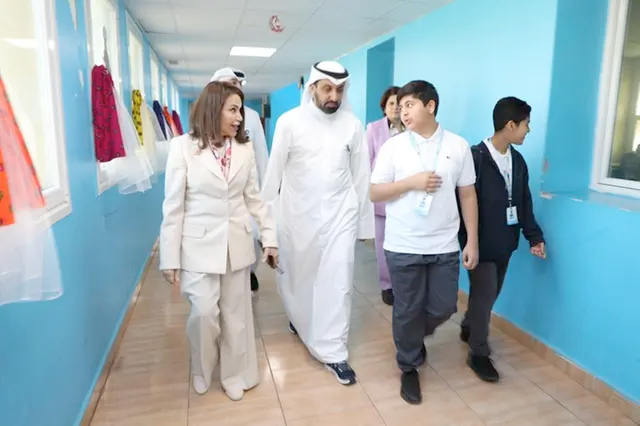 Shaikha Al-Bahar, NBK Deputy Group CEO, Ghanem Al-Sulaimani, Assistant Undersecretary for Educational Development and Activities at the Ministry of Education, Yasmine Al-Sharhan, Observer of Cooperation with Civil Society Organizations at "Nazaha", Sumayah Al-Jasem, Founder, Managing Director at Creative Confidence, were among the visitors.
A vast number of parents of participating students attended the visit and discussed the program's benefits with their children. They were delighted to see significant improvements in their children's financial behavior and knowledge. Additionally, they engaged in discussions with teachers about the program's impact on the students.
During the visit, participants reviewed all the details of implementing the "Bankee" program, from the virtual bank experience that allows students to have a financial account in which they can trade using the "Bankos" virtual currency, and how students receive bonuses as a result of accumulating the program's currency in their accounts. They also visited the classrooms to witness how the program has become part of students' daily lives and how they were rewarded for their academic excellence and positive behavior.
Shaikha Al-Bahar remarked, "We are delighted with the tremendous success of the Bankee program, representing our latest efforts to foster financial inclusion and enhance financial literacy among students and youth."
"The students' interactions we witnessed today demonstrate that Kuwait has a promising generation with a passion for knowledge from an early age. We should all take pride in this generation, as they represent a significant investment in the future of Kuwait," she added.
According to Al-Bahar, sponsoring Bankee program aligns with NBK's broader objective of promoting financial inclusion among all segments of society. "We are committed to contributing to this cause by educating young individuals on prudent financial management and helping them establish a strong financial foundation that will serve them throughout their lives," Al-Bahar noted.
"We believe that this initiatives introduced by the private sector in collaboration with schools and educational institutions, to provide the youth with the knowledge and skills needed to manage their finances positively impact their lives and contribute to the creation of a more financially inclusive society." Al-Bahar further explained.
"The process of financial education is a continuous learning journey, and the earlier it begins, the more effective and beneficial it becomes. Starting financial education at a young age sets individuals on the right path towards achieving their goals related to investment, savings, entrepreneurship, and even planning for retirement," Al-Bahar confirmed.
"NBK firmly believes that the youth are the future leaders of our nation, and we are dedicated to playing an active role in their development journey by teaching them the importance of wise financial management," she added.
Highlighting the bank's commitment to fulfilling its national obligations and responsibilities, Al-Bahar emphasized that NBK continues to utilize its unique capabilities and extensive financial knowledge to actively promote awareness of financial stability and independence among the current generation of Kuwaiti youth.
She also emphasized that high-quality education leads to the long-term well-being of individuals, families, and societies. Furthermore, improved financial literacy is the foundation for personal and national prosperity.
The "Bankee" program was introduced in selected Kuwaiti schools by NBK in collaboration with the Ministry of Education, and Kuwait Anticorruption Authority (Nazaha). The program's goal is to enhance financial literacy among students by introducing them to financial culture through practical and engaging experiential methods.
"Bankee" is the first- of-its-kind program in Kuwait, created by a team of young trainees under NBK's sponsorship to explore innovative solutions that promote sustainable financial literacy among society members.
The program's primary goal is to introduce students to core financial concepts such as earning, spending, saving, and financial responsibilities. This objective is achieved by employing applied learning and gamification techniques to simulate a real-world economy within the classroom.
The pilot phase will span the entire 2022/2023 academic year, with nine schools from various governorates (for boys and girls), including six government and three private schools. The primary objective of this phase is to evaluate the program's implementation settings by engaging teachers and students in introductory workshops to assess, enhance, and modify implementation features to align with the existing educational curriculum.
Continue Reading: https://www.gccstartup.news/global/africa/tanzania-an-investment-destination-jewel-in-africa/